Here are some examples of different types of Roofs and Roof Trusses.
-Gable roof : There are only 2 roof levels on a standard gable roof and gables have to be built up to seal of the other 2 ends. The roof extends over the gable ends with a small overhang.
-Gable roof with parapet: The gable walls can also be built up to extend higher than the roof. The roof has to be sealed off against the parapet walls.
-Hip roof : All 4 sides of the roof are sloped and no walls are built up.
-Louvred hip: A small gable is placed on the apex of the hip to form a louvre.
-Polynesian roof: The roof is cranked on the sloped level to form a roof with 2 different pitches( people also refer to it as a Bali or Chinese roof)
-Exposed trusses: The ceiling is placed on the topchord of the truss to expose the inner part of the truss. Different types of trusses can be manufactured to the customers requirement.
Gable and hip roof with natural slate tiles

Standard gable roof chromadek corrugated
sheeting

Hip roof with louvres- Monarch concrete tiles

Standard hip roof with Monarch concrete tiles

Beams and rafters with plywood ceilings

Special laminated beam trusses with rolled square
tubing tie-beams and steel rod webs. 6mm Nutec
tongue and groove ceiling boards installed on top
of the trusses.

Standard mono trusses with plain 6mm Nutec ceiling
installed on top of the trusses

Standard scissor trusses with pine tongue and
groove ceilings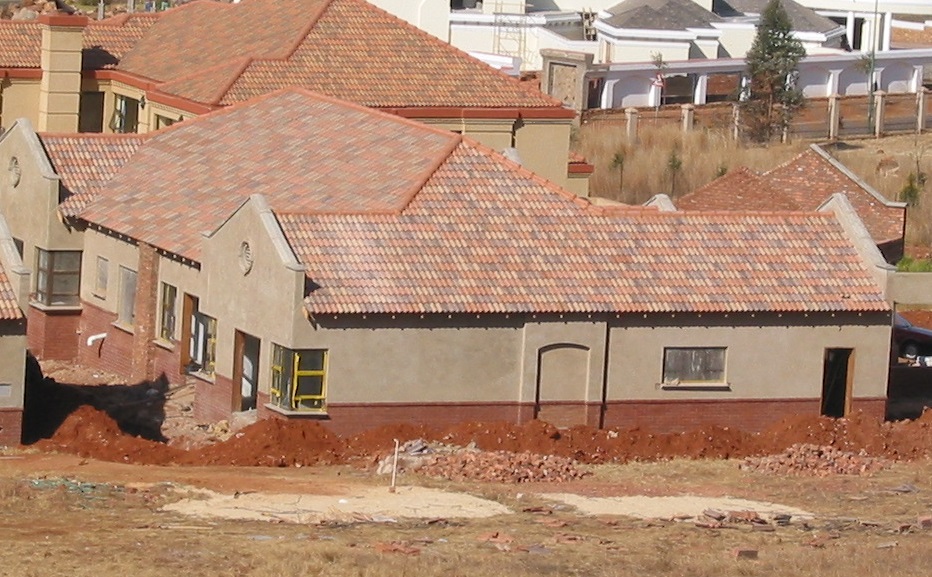 Parapet roof (gables build up above the roofline)